Add some spring colour or prepare for the summer with Wicken Workshop's range of rustic garden planters, available in a variety of sizes and finishes.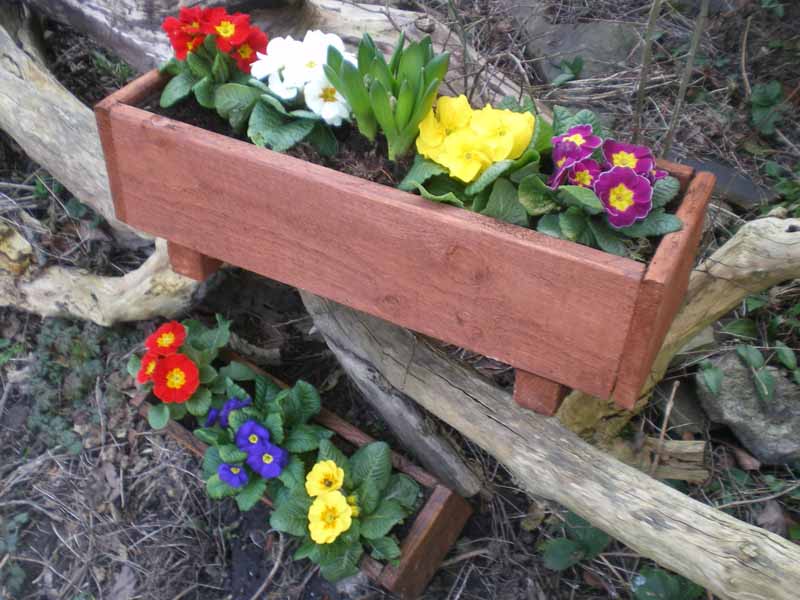 Multibuy offer examples. Ideal DIY / crafting / customising
8 untreated, standard small size planters in the chunkier new 2019 design - £ local collection only
5 x untreated triangles without middle shelf - £ local collection only
5 x unsanded heart shape bandsaw cut blanks - £ + P&P
Softwood Chests, Boxes, Bins, Tables, Benches, Shelves, Stools, Furniture etc.
Galley shelves and cupboards - available with or without doors, various configurations and sizes possible
Triangle shelves - small display shelves for freestanding or wall hanging. Various sizes and finishes possible
Hexagon shelves / frames - with or without central shelf
Key Holders / Racks - shaped key hook racks. Various finishes, shapes and themes
Small softwood storage trays - range of uses
Long shallow storage trays - handle, feet and lid options
Treated Decking Board Planter. Long trough style planters
Storage Chest. Softwood storage chest with lid and sturdy construction of screwed boards, available in a selection of sizes and finishes
Chunky Coffee Table. Made from thick, heavy softwood timbers and available in a selection of sizes and finishes
Chunky Side Table. Made from thick, heavy softwood timbers and available in a selection of sizes and finishes
Chunky Low Stool. Made from thick, heavy softwood timbers and available in a selection of sizes and finishes
Chunky Kitchen Bench. Made from thick, heavy softwood timbers and available in a selection of sizes and finishes
Softwood Storage Cubes and Units. Flexible open fronted softwood storage.
Stacking Storage Stool. Flexible modular softwood seating and storage boxes
Bookshelves. Single and multiple shelf units with angled shelf and rail options
Desk Tidy with small shelf
Kitchen Spice Rack and Tidy
Coat Racks
Backboards. Range of sizes, finishes and decoration.
Cup Shelves (for wall or bulkhead mounting)
Rustic Softwood Pieces
Rustic Planters (small) (pre 2019 design). Small, affordable rustic garden planters. Stock planters available untreated or with stain / finish and other extra options.
Rustic Planters (medium). Medium sized rustic garden planters. Approx 9 litre planter constructed in 22mm rough sawn softwood.
Rustic Duck Boards. Slatted rustic duck-boards. Stock boards available untreated or with stain / finish and other extra options.
Rustic Bird Boxes. Rustic bird boxes for robins, sparrow and other small winged visitors to the garden. Variety of styles and options.
Rustic Storage Trays. Chunky rustic storage trays. For a host of different uses inside, outside or on the water.
Rustic side shelf / bookcase, small -
Rustic low coffee table, small -
Rustic storage / tool trugs, small -
Rustic Large Trough Planter. Substantial garden planter constructed of screwed boards. 35litres+
Rustic Storage Box and Lid. Sturdy rustic boxes available with or without lid / seat top
Rustic Stacking Boxes and Top Seat. Storage and seating solution for the home or small space. Variety of sizes and finishes.
Rustic Storage Rack. Rough primitive style rack for storing small jars and other minor items
Rustic Shoe Rack. Rustic two tier slatted rustic shoe rack
Rustic Toolbox / Trug. Open rustic trug / toolbox with handle
Rustic Deep Planter / Umbrella Holder
Misc
Hardwood fids and dibbers. Ropework / gardening
Abstract pieces
One off decorative / abstract pieces
For Timber and Hardware - For New Chandlery
For Vintage Tools - For Vintage Furniture - For Vintage Boat Bits